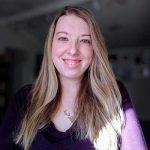 Mikayla McMurtray, LMFT-A, LPC-A is a therapist dedicated to helping people cultivate greater self-awareness, build healthier relationships, and achieve a greater sense of well-being. She effectively works with couples, families, and individuals.
Mikayla brings a strengths-based and client-centered approach to her practice. By collaborating with clients, she helps them identify their unique strengths and resources to overcome challenges and achieve their goals. Drawing from a range of evidence-based techniques, Mikayla tailors her approach to meet each client's unique needs and preferences.
She is particularly skilled in utilizing solution-focused techniques, which focus on identifying and building upon existing strengths and resources to create positive change. She also utilizes the Gottman method, a research-based approach to couples therapy that emphasizes building and maintaining healthy relationships through the use of practical skills and tools. Additionally, Mikayla has a deep understanding of attachment theory, which explores the ways in which early relationships shape our emotional and relational patterns throughout our lives. She also incorporates elements of acceptance and commitment therapy, a mindfulness-based approach that helps clients identify and pursue their values, and develop greater emotional flexibility and resilience.
Mikayla is a Licensed Marriage and Family Therapist Associate (LMFT-A) and a Licensed Professional Counselor Associate (LPC-A) with a master's degree in professional counseling from Texas State University in 2022.
Mikayla McMurtray, LMFT-A, LPC-A is supervised by Rachel Saenger, LMFT-S, LPC-S.
More Therapists